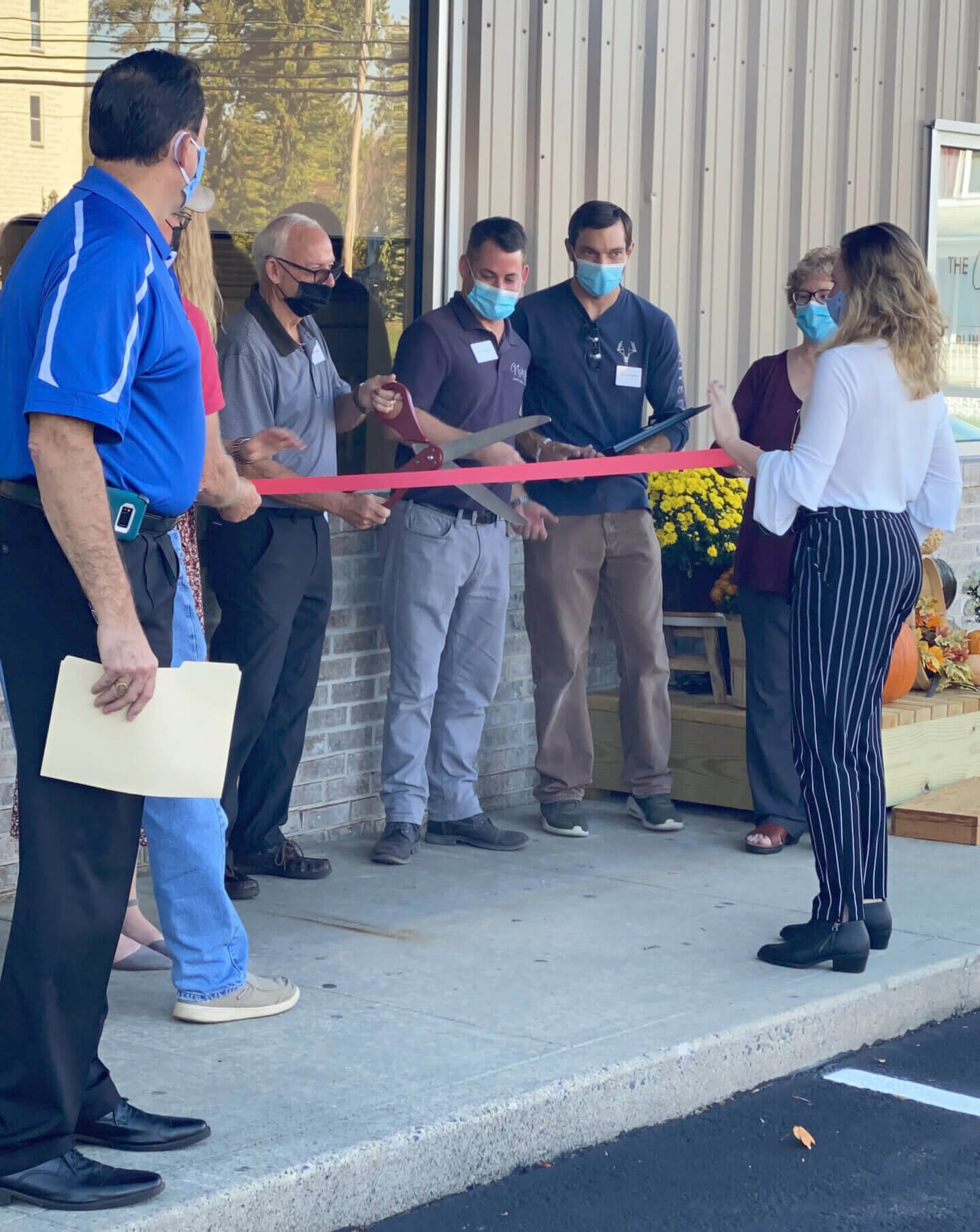 By Mike Lewis [email protected] Oct 22, 2020
Jamie Neikirk said his Hagerstown company reached its 75th birthday by sticking to fundamentals.
"I attribute it to my parents, who gave me four basic business principles," he said.
Those are working hard, being honest, respecting employees and taking care of customers.
"We've just kind of held to that, and business has always just been there. … We have grown, and we continue to grow," he said.
Business and community leaders joined the family-owned company Thursday for its 75th anniversary celebration and a ribbon-cutting at the firm's new facility, 17143 Virginia Ave.
The building, which once housed a Dollar General Store, covers 7,700 square feet, compared to the 4,500-square-foot space the company had been using in the Bowman Business Park. The building has been renovated to include a showroom for the company's custom closet systems and window treatments, such as shades, blinds and shutters, for commercial and residential use.
The building also has a production area, offices and meeting space.
The company has been fabricating roller shades since 1945, Neikirk said, and some of the old machines adorn his new office. He demonstrated one for visitors who took a tour Thursday.
The company also will hold an open house for the public from 9 a.m. to 5 p.m. Friday and Saturday. During the open house, the company will sell some surplus inventory, including window treatments and other accessories, at yard-sale prices starting at $5. (Credit cards will not be accepted.) The net proceeds will be donated to The Boys and Girls Club of Washington County.
The Neikirk Co. traces its roots to 1945, when Buzz Neikirk, Jamie's father, took a job selling wallpaper and window shades at the newly opened J. Ralph Fiery Inc. at 66 W. Franklin St. In 1963, Buzz Neikirk bought the business and renamed it William M. Neikirk Inc., according to a company history Jamie Neikirk shared Thursday.
Jamie Neikirk, who had an accounting firm before joining the family business, purchased the company from his father in 1984. The younger Neikirk expanded the offerings to become a complete decorating center and the business started trading as Neikirk's of Hagerstown.
In 2006, the business partnered with Space Crafter's Inc. to add custom closet systems. The company specialized in custom closet systems and window treatments. The company sold the building on Franklin Street and moved to the Bowman Business Park in Williamsport.
In 2008, Justin Neikirk joined his father Jamie to become the third generation in the business. They bought out Space Crafters Inc. and started operating as The Neikirk Co.
Last year, Neikirk Real Estate Ventures was formed and bought the building on Virginia Avenue with the idea of renovating it into a new home.
Jamie Neikirk told the group Thursday that neither he nor Justin intended to get involved in the family business.
"We had other career paths to follow, and we did. But circumstances change, and in the end neither of us wanted to see the business leave the family," Jamie Neikirk said.
The younger Neikirk is now a partner in the business. Both Neikirks spoke Thursday, thanking the people, including the company's four employees, who have helped the firm through the years.
"I am very proud of him and find it very rewarding to work with him on a daily basis. Not many parents get to work with their sons or daughters, and I do not take that for granted," Jamie Neikirk said.
Justin Neikirk closed his remarks by turning toward his father.
"This guy is supposed to be retired," he said. "He's put countless amount of hours into this place. I love you, and thank you."
Mike Lewis covers business and economic issues and the town of Hancock for Herald-Mail Media. He can be reached by email at [email protected].